"CardSwap.ca is Canada's leading online platform to buy, sell and donate gift cards. This exclusively Canadian service is tailored to help savvy consumers save money on gift cards before shopping and to provide a secure environment for consumers to exchange unwanted gift cards into cash."


I don't know about you, but I love gift cards. It is my favorite gift to give and receive. Gift cards let you choose something that you actually want, instead of receiving a specific item that you might not really want or need. Sometimes though, you might receive a gift card for a place that you may not particularly care for. Then you are stuck with a card loaded with money that you won't be able to use. But wait...
For all of my lucky Canadian readers, there is a solution to this problem:
CardSwap.ca
! With CardSwap.ca, you can exchange that unwanted gift card for another that you really want! How cool is that?
Here is a little about the savings that you can receive using CardSwap.ca (from their website):
CardSwap.ca is Canada's premier online marketplace dedicated to the exchange of gift cards. This online community efficiently connects buyers and sellers of gift cards in a safe environment. This is exclusively available to Canadians, tailored for our local retailers. CardSwap.ca provides a trusted third party service that benefits buyers, sellers and retailers of gift cards.

•Buyers: Save money while shopping
CardSwap.ca helps shoppers safely purchase discounted gift cards hassle-free. Swappers can save up to 40%, through buying discounted gift cards either for presents or using themselves. All gift cards are verified before listed, to ensure they are valid.

•Sellers: Swap unwanted gift cards into cash

CardSwap.ca has created a safe marketplace for owners of unused gift cards to swap them for cash.


CardSwap.ca has generously offered this great coupon for all of my Canadian readers: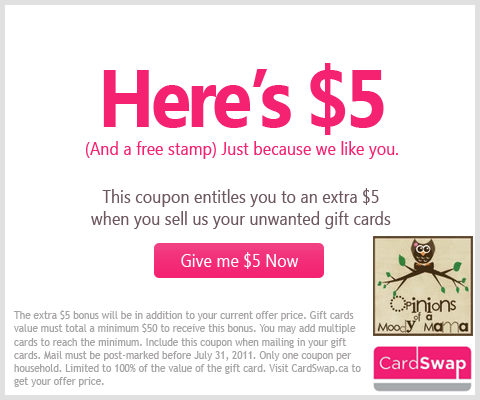 Don't miss this chance to save big and get the gift cards that you really want! Click on the coupon above to get started saving now!
This is a sponsored post paid for by CardSwap.ca. All opinions in this post are 100% mine.