This review includes links to a site with adult material and is intended for mature adults over the age of 18.
"EdenFantasys.com invites you to learn from others, share your experiences and re-discover sex. We offer online shopping you can trust, a welcoming community and a wealth of inspiring resources."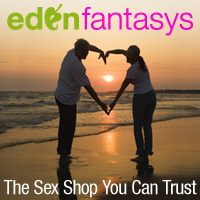 I was recently introduced to EdenFantasys, and I wanted to share with you all what I found to be great about their website and company!
EdenFantasys has many
adult items
ranging from massage lotions to lingerie, with a little of everything else in between. The product descriptions are very detailed, which I appreciate. I also think that the variety of every type of product is great. It is nice to have a selection to choose from.
I also like the fact that EdenFantasys is also very conscious of the customers privacy. They ship all items discreetly, your personal information is never shared and you will never receive unsolicited emails from them.
I am happy that I found
EdenFantasys
website, and plan to do a little shopping there myself very soon. Be sure to visit EdenFantasys.com and check out the selection for yourself! I am willing to bet that you will have no trouble finding something that interests you!
I am receiving a gift card from EdenFantasys in exchange for this post. All opinions expressed above are solely my own, and were in no way influenced by anyone at EdenFantasys.